ebikechoices is supported by its audience. When you purchase through links on our site, we may earn a commission. Learn more
Since my passion for cycling was reignited back in 2017 through e-bikes, I've covered over 22000 miles on regular bikes. In this article, I'm going to be sharing with you my DIY gravel bike build based on the excellent Merlin Malt G2X frameset. I'm a big fan of gravel bikes and love the comfort and versatility they offer.
This build may be of interest to those of you thinking of building a DIY gravel e-bike as the Malt G2X frameset would make a particularly good donor frame for the Tongsheng or Bafang mid-drive motor conversion kits.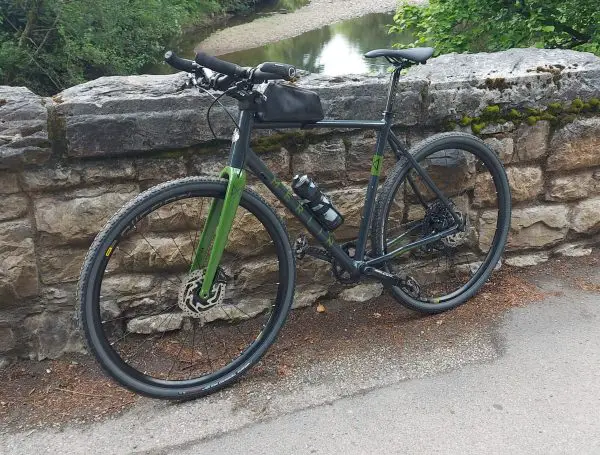 Why gravel bikes are great
Like a lot of obsessive cyclists, I probably own too many bikes! At the time of writing, I've got a couple of e-bikes that hardly get ridden. Plus, I have two flat bar road bikes (one for bad weather riding) and a hybrid. The point of me building the gravel bike is to consolidate the hybrid and one of the road bikes.
What really sparked my interest in gravel bikes was testing the Ribble CGR AL e. I really liked the versatility of a bike that was equally at home on smooth tarmac as it was on rough country lanes and moorland gravel tracks.
Choosing my gravel bike specification
Gravel bikes should be equally at home on multiple surfaces, so I wanted a bike that wasn't too heavy, was comfortable and had a good spread of gears. A 1 x drivetrain was a must and I'd even considered the possibility of electronic shifting.
My initial plans were to get a lightweight carbon frameset, then I toyed with the idea of high-end steel like Reynolds 853. I eventually settled on a good quality 6061 alloy frame with full carbon fork – this left me with enough budget to splash out on some decent components.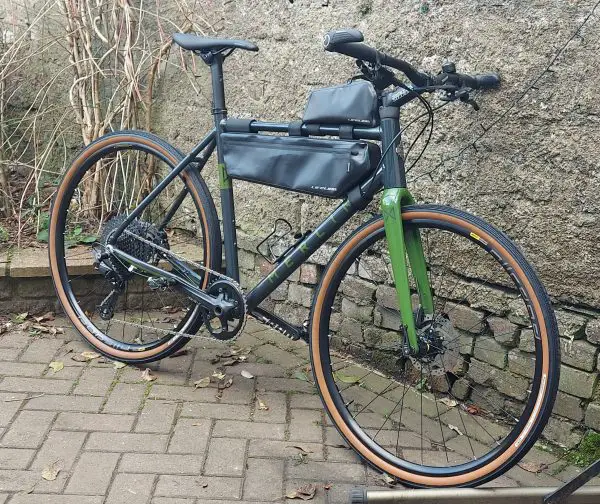 Frameset: I had looked at the Ribble gravel framesets, but availability wasn't great at the time. I had also considered the Sonder Camino AL, I eventually settled on the Merlin Malt G2X and luckily I found a used one on eBay in my size. I ended up saving over £200 on the cost of a new frameset.
Wheels: This was a fairly easy one. I didn't want to spend too much on a wheelset, but I did want decent quality. I found a discounted set of Mavic Allroad UST wheels that fitted the bill perfectly.
Tyres: For this build, I needed a tubeless tyre that would roll quite fast on tarmac, while being reasonably capable off-road. I initially fitted Vittoria Terreno Mix 700x38c, which is a really capable all-terrain tyre. But, it's quite heavy and felt a bit 'draggy' on tarmac.I decided to try a pair of Panaracer Gravel King Semi-slick TLC tyres in 700x38c, and they ticked all the right boxes – lighter than the Vittoria (by 100g per tyre) and noticeably faster rolling on tarmac. Plus, they have a nice tan wall which looks great against the colour scheme of the bike.
Brakes: I already had a nearly new set of Shimano MT200 hydraulic brakes going spare, but the Merlin frame required flat-mount brake calipers. I didn't really want to fit adaptors, but I managed to find a pair of new UR-300 flat mount brake calipers for just over £50.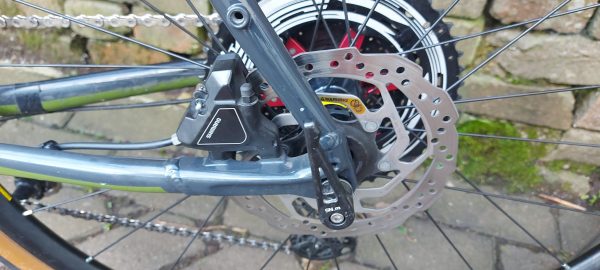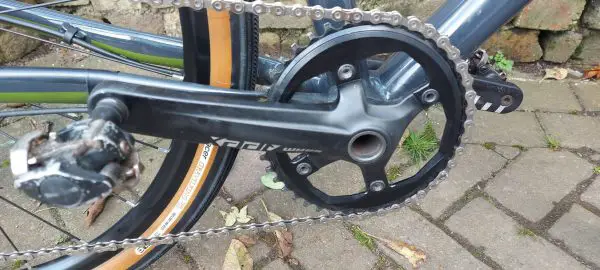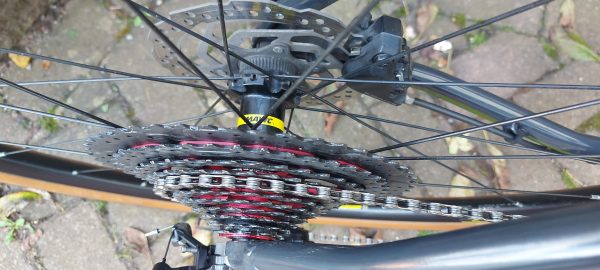 Finishing kit: I ended up buying a Prime Orra gravel seatpost – this has elastomer bushing which reduces road buzz, and fitted a Truvativ Stylo 680mm riser handlebar (more on that later). Stem is a 120mm / 17°  Syncross. Seating is provided by a Prime Doyenne Endurance saddle which I find incredibly comfortable. Grips are the excellent Ergon GP3 which I also use on another bike.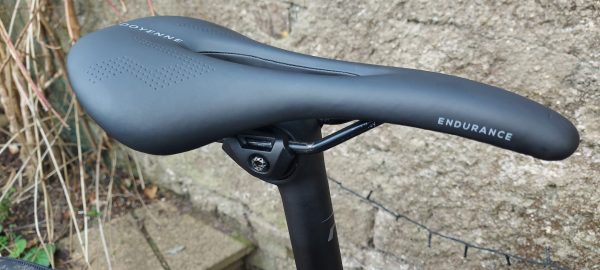 Drop bar or flat bar gravel bike?
As you can see above, I decided to go with a flat handlebar set-up. There are a number of reasons I decided to go with a flat bar over drops which I've listed below (in no particular order).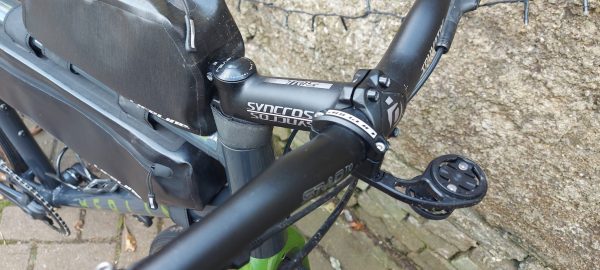 Flat handlebars give better control and confidence (than drops) when riding off-road and on rougher terrain.

Better choice of MTB brakes and gear shifting options.
Easier to adjust and work on / swap or change things (as I often do) – no faffing around with bar tape.
More relaxed and upright riding position.
Ergon GP3 grips with bar ends are really comfortable.
There are a few cons to fitting a flat bar and this really depends on personal choice.
Drop bars do offer more hand positions (although with the Ergon grips and aero bars I've made up for this!)
More aerodynamic for road riding and long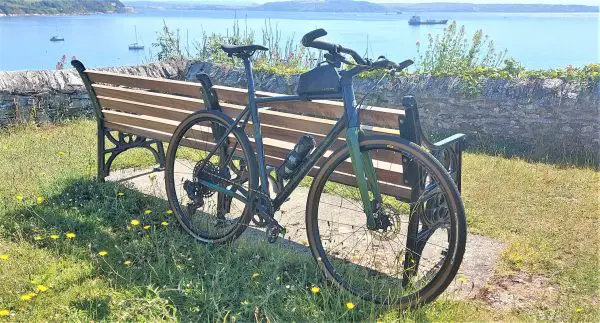 How does it perform?
At the time of writing I've covered just over 1000 miles on the Merlin G2X build. So far, it's been flawless in every aspect. It does everything I originally wanted and is great fun off road. I haven't had any tyre issues and the Shimano Deore drivetrain has performed perfectly.
The total weight of the build is 10.2kg which is a respectable weight for a gravel bike of this type. The Mavic Allroad wheels have remained true, despite a few challenging rides over Dartmoor.
It is a true 'do it all' bike in every sense of the word. It rides well on tarmac and is quite happy to take off-road short cuts. Plus, the bigger tyres really do take the sting out of pot holes and poor road surfaces.
Although it doesn't feel quite as quick as my Genesis out on the road, I doesn't hang about when the chips are down! I've tackled the challenging Dartmeet climb on Dartmoor and the extra low gearing really helped.
Total cost of my DIY gravel bike build
Below I've broken down the total cost, and I think you'll be surprised at how cheap it was. I did already have some of the parts knocking about and the frameset was purchased used from eBay.
Merlin Malt G2x frameset: £160 including delivery from eBay (current new price is £299)
Wheelset: Mavic Allroad £199 from Merlin Cycles
Tyres: £65 for the pair of Panaracer Gravelking SSC tubeless ready 700 x 38c tan wall.
Derailleur: Shimano Deore M5100 11-speed £27.99 including postage (Balfes Bikes).
Shifter: Shimano Deore M5100 £31.99 (Bike Parts UK).
Cassette: Sunrace CMX8 11-50 £89.99
Saddle: Prime Doyenne £19.99 (Wiggle)
Handlebars: Truvativ Stylo 680mm 20mm rise (previous purchased for £15 from Wiggle)
Crankset: SRAM Apex 1 (brought nearly new from eBay for £55)
Chainring: Absolute Black oval 42t (originally purchased for £70)
Seat Post: Prime Orra 31.6mm £31 from Wiggle
Stem: Syncross 120mm  / 17° £7.99 from Wiggle
Grips: Ergon GP3 – originally purchased from Wiggle for £37.99
Brakes: Shimano MT200 levers (already had spare) UR300 flat mount calipers £51.99 for the pair.
Total cost of the build: £862.93 – Including the cost of the parts I already had. If I purchased a new frameset then it would have come in at just over a grand – not bad at all for the spec!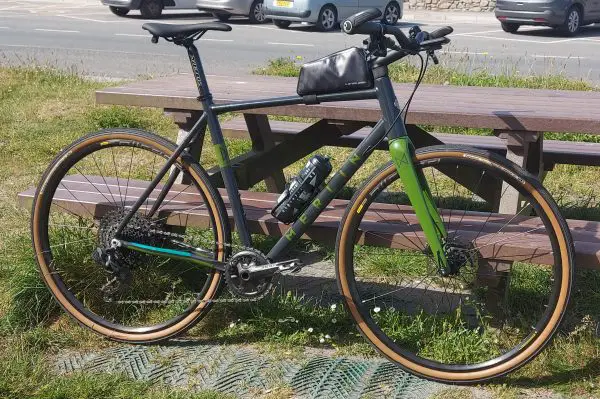 Conclusion – is it worth building a DIY gravel bike?
When you buy an off-the-peg bike, there's nearly always things you want to change after a while and this can get very costly over time. Building your own gravel bike is a very rewarding experience, and it can be cost effective, as you will be building the bike using the components you want from the outset.
At the time of writing, I've covered just over 1000 miles on my gravel bike and I love it to bits! It's so versatile – it is equally happy on long distance rides on country lanes, through to gravel riding on Dartmoor and even mountain bike trails like the Beast of Bodmin at Cardinham woods.
You don't need to be an expert bike mechanic to build your own gravel bike, but it does help if your comfortable with mechanical tasks. This isn't the first bike I've built and it definitely won't be the last!
As this is primarily an e-bike blog, I thought I'd include this build as it would make a great basis for a DIY gravel e-bike – this frame is particularly suitable for either the Bafang or Tongsheng mid-drive motors, although it wouldn't be suitable for a hub motor as it has thru-axles.
I hope you've found this article useful and it's inspired you to go ahead and build your own bike. Please feel free to leave a comment in the section below.
Source link