Magnum
Ride the Drive needs volunteers as it takes over 4 parks for 2021 | Local Government
Ride the Drive will return in 2021 — with bikes taking over some city streets on June 6.
This year, however, the popular event won't fill the lanes of John Nolen Drive with bikers, skateboarders and rollerbladers as in the past. Instead, Ride the Drive will take place in four neighborhood parks in order to draw smaller crowds — a result of COVID-19 prevention measures.
But having four sites instead of one more than quadruples the need for volunteers. Madison Parks still needs hundreds of citizens to help with guiding cyclists through no-car intersections and other duties.
In a normal year, Ride the Drive operates with 80 to 100 volunteers. This year, it needs 580. As of Thursday, 376 volunteer slots were still open.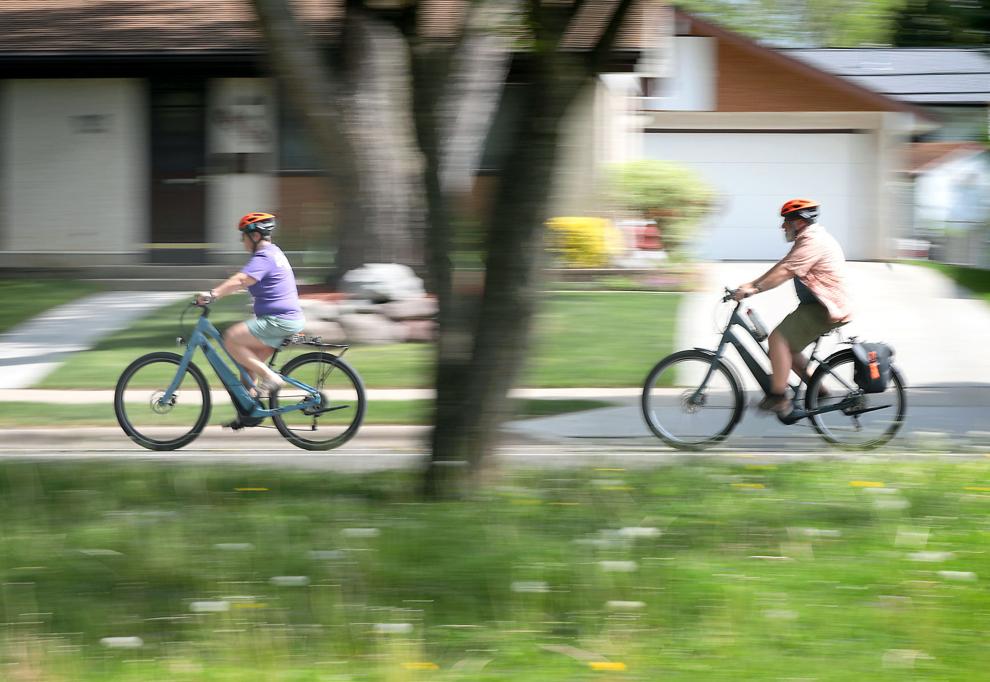 Volunteers can sign up for shifts at ridethedrive.com and will receive a free event T-shirt.
"We're really counting on those neighbors who live nearby the parks to come out for just 90 minutes or two hours" to lend a hand, said Madison Parks spokeswoman Ann Shea. "They'll still have time" after volunteering to jump on a bike and ride the route.
Different features at each site
Human-powered transportation and free activities for all ages will take over Marlborough, Wingra, Warner and Kennedy parks, located on the South, West, North and East sides of Madison, respectively. Ride the Drive runs from 9 am. to noon at each location.
"Each of the parks will have food carts, picnic tables, bike checks, and each park will have streets closed surrounding the park," creating no-car routes that run about two miles each, Shea said. All sites will host an information station with maps and Ride the Drive T-shirts for sale for $10.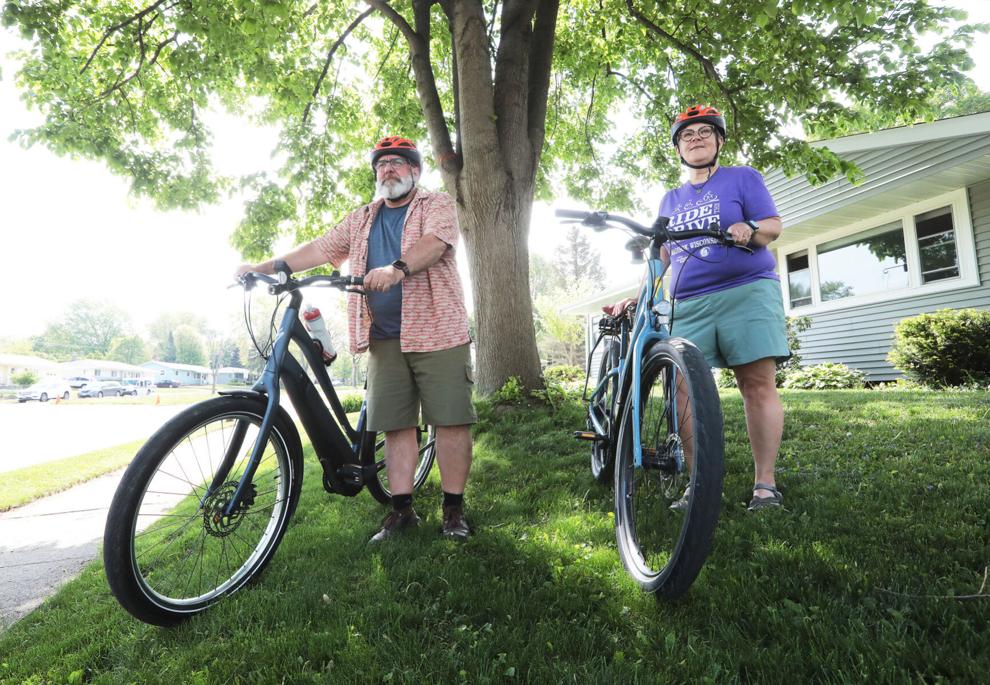 "Streets will be closed to make it easy for folks to come out. They can walk it, stroll it, roll it, or pedal it," Shea said. Bike Ambassadors will hand out flags to neighbors along the route on June 6 who just want to sit in their front yards and cheer on the parade of participants.
Special activities will be offered at each location:
Marlborough Park, 2222 Whenona Drive:
Free borrow-a-bike station from BikEquity for those who don't have a bike, plus bike safety checks by Wheels for Winners and free books for kids from the Madison Reading Project's Big Red Reading Bus.
Wingra Park, 824 Knickerbocker St.:
Bike safety checks by Dream Bikes, plus a 20% discount on watercraft rentals that day for Madison Boats-Wingra location (make a prior reservation online at madisonboats.com with promo code RTDWingra).
Warner Park, 2930 N. Sherman Ave.:
Cyclocross Course by Capital Off Road Pathfinders, bike safety checks by Dream Bikes and live music by The Big Squeezy.
Kennedy Park, 5202 Retana Drive: Bike safety checks from Freewheel and Trek, plus a bicycle obstacle course and ropes climbing challenge (both located outside nearby Kennedy School). Nearby Heritage Heights Park, 701 Meadowlark Drive,
will feature an information station, food carts and bike safety checks by Bike Mobile.
"With the four separate events, this allows people to come out with their neighbors, say hello, take a walk, ride their bike," Shea said.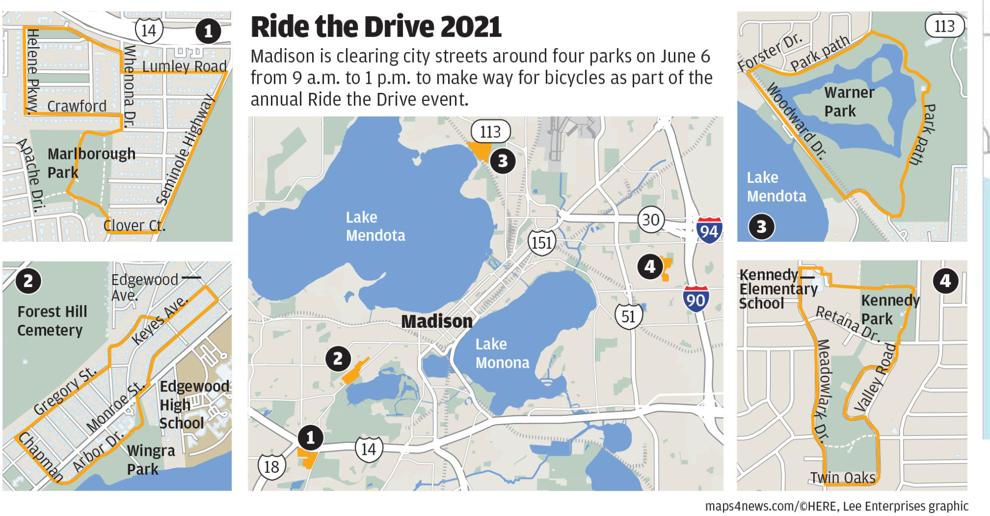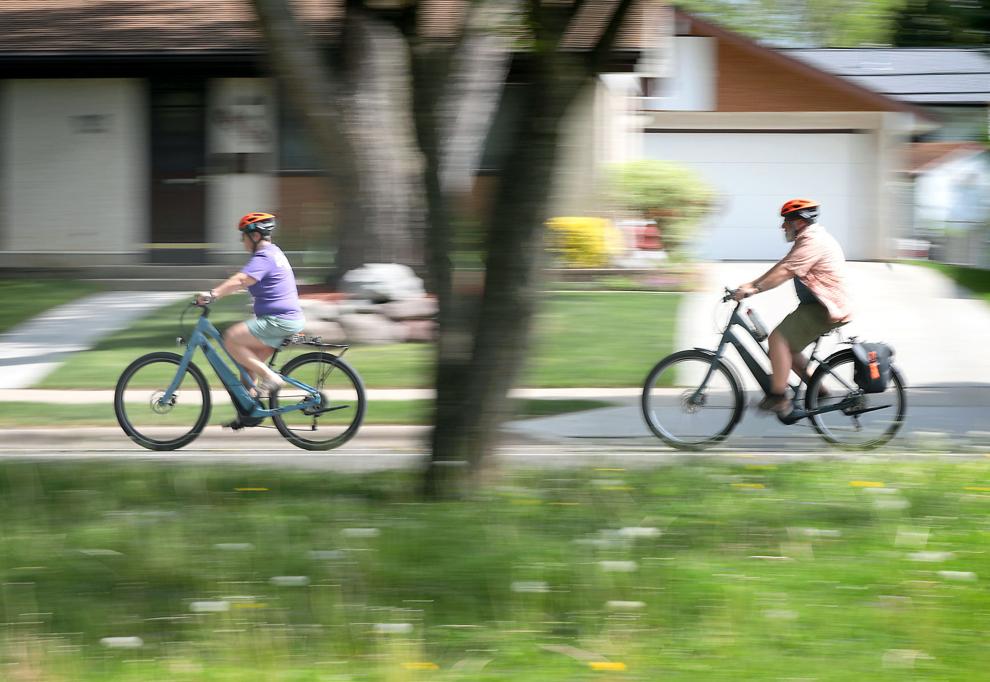 Longtime volunteers Wendy and Jeff Murkve will be at Warner Park, staffing the T-shirt sales table.
Both are avid bike commuters who — during non-pandemic times — frequently ride their bikes to work from their North Side home to Downtown or the Far West Side. This past year they've been working mostly from home, so they use their bikes for weekend outings and trips to the grocery store. As Scout leaders, they have also led teens in earning the Scout cycling merit badge.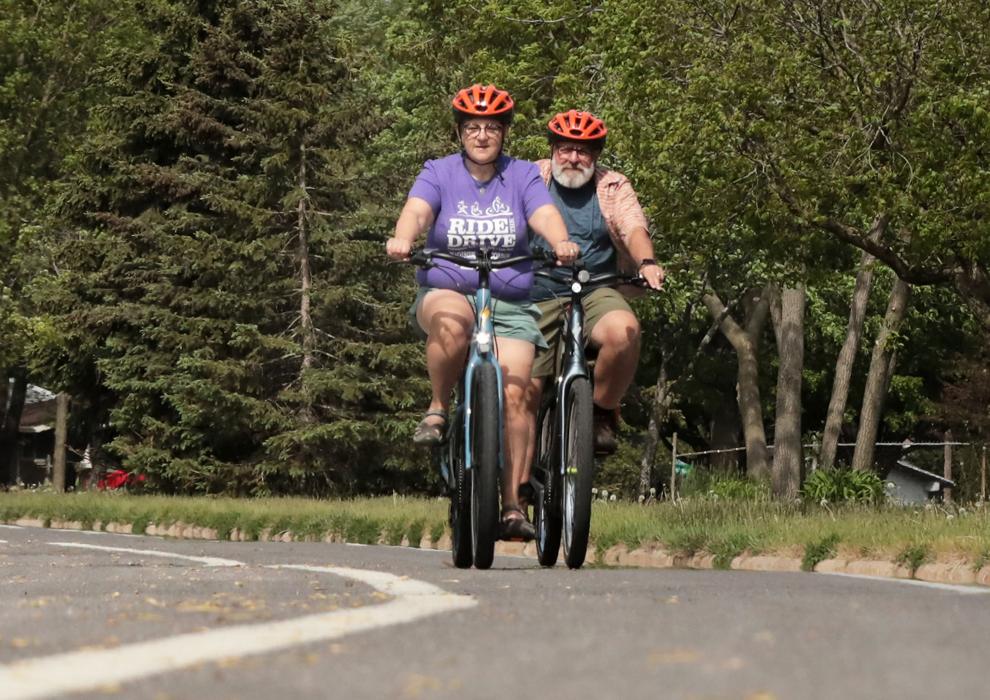 Wendy Murkve first started volunteering for Ride the Drive in its first year, 2009. She's served on the early-morning set-up crew, and as a Bike Ambassador, hopping on her bike to deliver items needed along the route and making sure things are running smoothly.
Her husband Jeff started joining her as a volunteer and got hooked. The Murkves have three adult children; their youngest son and his fiancée will join them as Ride the Drive volunteers this year.
"It's just a lot of fun to get out there and talk to people and to see people having fun on bikes and skateboards and roller blades," Wendy Murkve said.
This year "dividing the event into four makes sense," added Jeff Murkve. "Maybe it will make it more accessible for people living in other parts of town" who, for various reasons, haven't been able to make it Downtown for the event in the past.
The 2020 Ride the Drive was canceled because of the COVID-19 pandemic. The event typically draws 7,000-9,000 people, Shea said.
Next year, "we do hope to bring it back" to Downtown, where cyclists take over John Nolen Drive bordered by sparkling Lake Monona and get to pedal through the tunnel under Monona Terrace.
"At this point, we're just concentrating on 2021," she said, "and we hope we never have to cancel another event."
[Editor's note: This story has been updated to note the new times for Ride of Drive. The event runs from 9 a.m. to noon Sunday June 6. A previous version also misstated the address of the organizers' website, which is ridethedrive.com.]
Photos: Electric bicycles gaining in popularity
E-Bikes
E-bikes
E-bikes
E-bikes
E-bikes
E-bikes
E-Bikes
E-bikes
Source link