Ebike Choices
Lankeleisi T750 Plus Folding E-Bike (Tech Specs and Overview) |
ebikechoices is supported by its audience. When you purchase through links on our site, we may earn a commission. Learn more
If you're looking for a folding e-bike that has 'big bike' versatility and a high-performance rear hub motor, then the Lankeleisi T750 Plus looks like an interesting option. In this article, I'm going to be looking at the specification and hopefully I'll get hold of one to review in the near future.
Summary
Lankeleisi are a Chinese e-bike  brand who make some pretty interesting stuff. Most of their e-bikes are powerful (above 500w), have fat tyres and are designed for multi-terrain usage.
Available from geekbuying (UK shipping) 👉 exclusive discount code: NNNLANT7PUK  £1345.99
Buy from geekbuying (EU shipping) 👉 exclusive discount code: NNNLANT7PEU €1485.99
Key Features
Below, I've listed some of the key features of the Lankeleisi T750 Plus folding electric bike.
Powerful 1000w motor: The brushless,geared rear hub motor is based on a dependable design and is likely to be similar in function and performance to the 48v Bafang hub motor. Top speed is a claimed 40km/h, which is about right for a motor of this kind.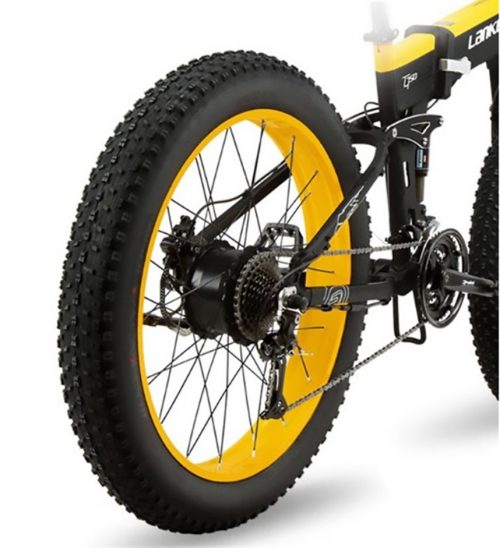 696Wh Battery: A 48v 14.5Ah battery should provide a range of at least 40-50km depending on how the bike is ridden. I would imagine sustained riding in full power mode would drain this battery fairly quickly (less than 30km). But, if ridden sensibly a range of 100km would be possibly.
Zoom hydraulic brakes: Good braking is always an important feature on a powerful e-bike. Zoom hydraulic brakes with 180mm rotors will function well enough (based on previous experience) and should be more than adequate for most riders. These brakes also feature cut-off sensors.
Dual suspension: The T750 Plus benefits from front and rear suspension. The front suspension is a triple tree design and looks impressive – how it functions in reality I couldn't say until I get one to test. The rear shock looks fairly standard.
Folding design: Folding e-bikes are usually quite small, but the Lankeleisi is a full-size bike with 26″ wheels.
Fat tyres: The 4 inch wide tyres are typically run at low pressures, making the T750 particularly good for dealing with mud, sand or snow.
Shimano 27-speed gearing: Unlike similarly priced electric fat bikes, the Lankeleisi has a decent drivetrain. There's a Shimano Altus 9-speed derailleur with Prowheel triple crankset, making a total of 27 gears.
Legality⚠️
The T750 Plus has a powerful rear hub motor that produces well in excess of the 250w limit allowed in a lot of countries. Needless to say, if you ride one of these on the roads in the UK or EU, then you run the risk of prosecution.
Ride it sensibly and don't draw attention to yourself and you may be okay. Ride it flat out everywhere and you'll probably get nicked!  Even if you do ride it sensibly, it's not a subtle looking bike and may still draw unwanted attention from the law.
Full Specification
General
Brand: LANKELEISI
Type: Electric Bike
Model: T750 Plus
Color: Yellow
Specification
Battery: 48V 14.5Ah lithium battery
Charging time: 5-6 h
Range: Pure electric 45-65 kilometers, power assist 90-120 kilometers
Motor: 1000W brushless rear-drive high-speed motor
Paint: Electrostatic baking paint
Controller: The 5-gear power controller
Maximum speed: 35-40km/h
Varispeed level: 27 speed
Helbooster: 12-point speed sensing booster
Instrument: LED smart meter
Tire: CHAOYANG 20X4.0" tire
Frame material: 6061 All-aluminium alloy frame
Handlebars: Aluminum alloy ultra-lightweight handlebar
Maximum load-bearing capacity: 180kg
Brake: Taiwan ZOOM power-cut oil brake
Disc: Hameng dental disc
Weight & Size
Product Weight: 30kg
Package Weight: 40kg
Package Size(L x W x H): 159 x 28 x 85 cm
Conclusion – is the Lankeleisi T750 Plus any good?
Until I get my hands on one to review, I can't say either way. But, if I were to base my conclusion purely on specification alone, I'd say the Lankeleisi T750 Plus is well worth considering if you're looking for a powerful fat tyre e-bike.
At the current price it's fairly well kitted out – 696Wh battery, powerful hub motor. Plus, hydraulic brakes and decent Shimano gearing. If high speed electric fat bikes are your thing, then the Lankeleisi is going to be a good option.
The folding aspect of the bike is useful, especially if you have limited storage space. But, it's incredibly heavy at 30kg so it won't really be suitable for taking on public transport or if you have to take it up stairs – unless you're comfortable carrying this kind of weight.
As far as the legality is concerned, this is a personal choice. Back when I started riding e-bikes in 2016, it didn't seem to be a problem –  most police weren't even aware of e-bike laws. Nowadays, things are different and if you ride one of these at high speeds then you run the risk of getting caught. At the very least you should keep your speed down in built up areas and pedal it like a normal bike.
All in all it's not really my cup of tea, but I've ridden these powerful fat bikes before and they are great fun to ride. If you're looking for a fat tyre e-bike, the Lankeleisi T750 Plus has a pretty good spec for the price and is worth considering.
Available from geekbuying (UK shipping) 👉 exclusive discount code: NNNLANT7PUK  £1345.99 Buy from geekbuying (EU shipping) 👉 exclusive discount code: NNNLANT7PEU €1485.99
Thanks for reading, and if you own a Lankeleisi T750 Plus, please feel free to leave a review in the comments section below.
Source link